Maximum power on a small footprint. This is what Engel duo machines have represented for years.
Following the successful introduction of the new Engel duo 500 pico, Engel recently extended the tried-and-trusted strengths of its large-scale machine series to the 500 tonne clamping force class.
As of now, the Engel duo pico is available in no less than 6 clamping force sizes from 450 to 700 tonnes, while at the same time offering the tried-and-trusted benefits of this successful series: economy, a small footprint, and ultra-short cycle times.
What customers mainly look for in the clamping force range between 450 and 700 tonnes, where a huge variety of applications are implemented and customer requirements are becoming more and more exacting, is flexibility and economy.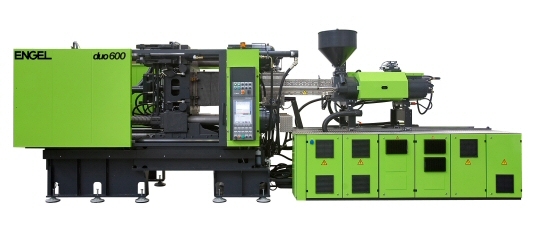 And this is exactly where the new Engel duo pico enters the scene: compact, short, fast, economic – geared for exacting quality requirements and available at a low price. To be more precise, this means a minimal footprint and low weight, thanks to the compact dual platen clamping mechanism, maximum energy efficiency and a very favourable cost-performance ratio paired with low additional investment as numerous "options" are included with the basic package. On top of this, the Engel duo pico offers a dry cycle of just 2.6 seconds, making it the fastest dual platen machine on the market.
Thanks to its hydro-mechanical clamping mechanism, the machine offers considerable benefits compared to similar concepts. The far shorter oil column in the pressure pads helps to reduce energy requirements and reduces dry cycle time on the one hand, while achieving higher clamping force on the other.
The wide platen design and maximum variability with respect to mould fitting height (min. 250 mm to max. 1100 mm) guarantee best-of-class flexibility and application scope: from covers of all kinds, brackets, headlamp housings, crates, boxes and lids, through to TFT displays for PCs.
As a genuine Engel machine, of course the duo pico is fully integrated with the entire Engel product range. This means system-integrated injection moulding technology. Machines, automation, processes, training and service are all perfectly intertwined.
The Engel duo 500 pico was introduced in July 2008; the range has now been extended with immediate effect to include 550, 600, 650 and 700 tonne clamping forces. All told, this is a high-precision, fast machine that offers maximum production efficiency for a low investment.