Algeria's 2nd International Plastics, Rubber and Composites Trade Fair, plast alger 2012 will be held concurrently with the 3rd printpack alger, the International Printing and Packaging Technology Exhibition.
The organizers expect more than 2,000 national and international trade visitors. Accompanied by a vast media campaign, both exhibitions are organized by the trade fair specialist fairtrade Messe and its algero-german team. The exhibitions will be held in Algiers from 24 to 27 September 2012 at the Palais des Expositions d'Alger – Safex.
A forecast GDP growth of constantly three to four per cent and the second national investment programme, worth 286 billion US Dollars until 2014, promise economic and social stability for Algeria. The most important trade partners of Algeria are: France, China, Italy, Spain, Germany and the USA. According to the figures of the Chamber of Industry and Commerce (IHK) from Bavaria, Germany the plastics industry ranks among the most important industry sectors, behind the oil and construction industries of the biggest country on the African continent.
"The foundation for more efficient and effective marketing in Algeria are face to face contacts", reported the IHK Bavaria and the Foreign Trade Organisation of The Austrian Federal Economic Chamber, ADVANTAGE AUSTRIA in their "Exportbericht Algerien" (May 2011). A maximum of valuable business contacts for the exhibitors and visitors of plast and printpack alger is promised by the UFI certified trade show organiser fairtrade. The great importance of visiting exhibitions is underlined by the figures of the current "AUMA_Messe Trend", where 85% of all surveyed companies said that trade shows are important or even very important in the direct B2B communication. Supplemented by innovative online B2B-portals, the organizer provides to the exhibitors and visitors a platform to plan their visit effectively before the exhibition and to stay in contact until the next edition.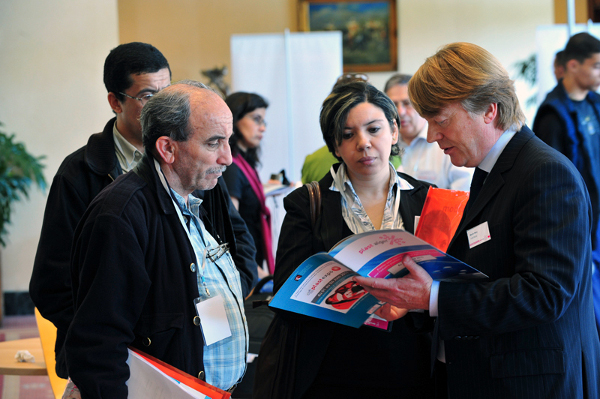 plast alger 2012 builds on the success of plast expo 2011 in Casablanca, Morocco and plast alger 2010 in Algiers. 2,881 trade visitors (+40%) discussing business with 137 exhibitors from 18 countries (+34% compared to 2009) mirrors the steadily growth of the Maghreb region. The exhibition programme in September includes: raw materials, chemicals and auxiliaries, plastic packaging machinery and technology, equipment and services, machines and equipment for pre-processing and recycling, machinery and plant for processing as well as moulds and dies. In addition to the national pavilions from AVEP-Valencia Association of Plastics Producers from Spain and Expo Austria, many market leaders like BSW, NGR and Sabic already confirmed
their participation. Algeria's 3rd International Printing and Packaging Technology Trade Fair will be held in conjunction with plast alger 2012. "Exhibitors and visitors will benefit from valuable synergies", says Kim Wolters, Project Manager
with fairtrade.
The well-directed media campaign, supported by AHK Algeria, the communication agency Blue Corp from Algiers and a dozen of national and international media partners puts the organizers in an optimistic mood to reach their target of 2,000 professional trade visitors. Dominik Rzepka, Head of Marketing and PR from fairtrade underlines, that all media activities are addressed to selected experts of the branch, to guarantee a maximum of valuable business contacts for their clients.