The wide choice of polymers available can meet a huge variety of product requirements or design specifications. Coloured, tinted or clear, with numerous decoration options and the availability of special effects and finishes, packs can be created that establish and project the individual identity that all beauty and personal care brands are seeking.
More importantly, ongoing developments are bringing plastics more and more into the premium sector. One example is Surlyn, a material that combines excellent transparency with the kind of thickness usually associated with glass.
Surlyn`s flexibility enables it to be used to create a variety of shapes (from simple and crisp to elaborate and baroque), sizes (from small to very large), special effects and finishes. Thanks to its transulance, a depth can be achieved that would be difficult to recreate using alternative methods. Surlyn can also be used in combination with technologies such as overmoulding and electroplating to create cost-effective eye-catching finishes.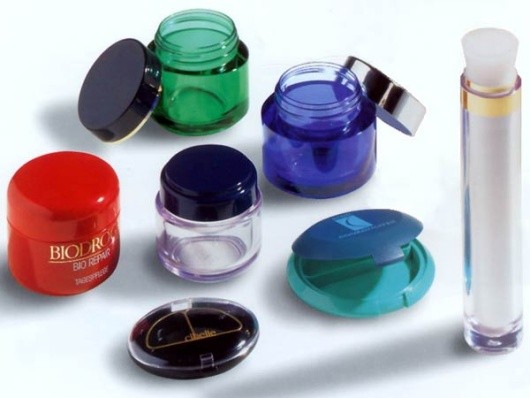 RPC beauté has used Surlyn in a number of customised packs, such as for a new closure created by using a three material construction - incorporating Surlyn with ABS and polypropylene - to overmould a plated part. This type of procedure offers the potential to cost-effectively design and produce very high quality packaging for a variety of cosmetic and beauty applications such as high end fragrance or personal care caps or colour cosmetics items.
Similarly, crčme jars, produced at sites in the RPC Bramlage-Wiko cluster, are
another area where advanced manufacturing techniques have enabled plastics to make inroads into what was once the sole domain of glass. Double wall technology provides the thickness of finished pack to satisfy the quality perception requirements for these types of products. At the same time, plastics also have the flexibility to create bespoke designs.
Functionality is another vital aspect of a successful pack. Advanced dispensing technologies, such as the airless system from RPC Bramlage-Wiko which delivers controlled and hygienic dosing for all types of lotions, creams and gels, can help to create the high level of consumer convenience that ensures repeat purchases.
All three of these examples, in their different ways, show how even in today`s tough trading environment, plastics can help beauty packaging continue to deliver the ?wow` factor. The even better news is that this does not have to come at a high price.