New Thermoforming "High Jump Record" ILLIG 3rd Generation RDM-K now completed: Productivity and product quality increased to a previously unachievable level.
Illig, manufacturer of thermoforming machines, have now completed their 3rd Generation of automatic pressure forming machines with the new
RDM 75K. These machines are suitable for the production of formed parts for a multitude of applications, with the main emphasis on cups of all shapes and sizes in large quantities.
There is now a fourth size in the RDM-K group, a group already established and well accepted on the market. The RDM 75K features a forming area of 735 mm x 465 mm and idle speeds of up to 42 cycles/minute. Compared to its predecessor, it is possible to constantly achieve increases in cycle speed of at least 30 percent, subject to material and cup shape sometimes even more. Other innovations with this machine and tooling are uniformity and accurate reproducibility of all cup shapes which, until now, has been unachievable in thermoforming with multi-cavity tools. There is an approximate 10% weight
saving and thus material saving without any loss of cup rigidity.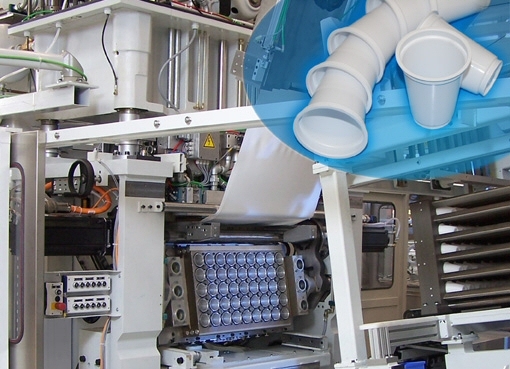 The stacking device has also been further developed to ensure the safe handling of the increased output from the thermoformer. Even cup shapes which are difficult to stack together are transferred automatically and reliably to the downstream equipment for further processing, eg. to pack the counted cup stacks into transport units or, for in-line production, to direct filling, sealing and packing operations.
A major development found in 3rd Generation RDM-K automatic pressure forming machines is to reduce the use of forming air by up to 50 percent compared to the previous generation of machines which results in a considerable increase in dynamics during the build-up of forming air.
Considerably faster forming with better definition in the individual cavities is a significant technological benefit. The forming air supply is now controlled simultaneously by individual valves on each cavity and thus controlled uniformly in a reproducible way from cycle to cycle. Identical conditions are provided for all cavities in a multi-cavity tool - all formed cups are
therefore identical, of the same definition, weight and dimension. In this way dimensional tolerances previously specified eg. for the sealing rim thickness of yoghurt cups in the tenths of a millimeter range can be reduced significantly. Fluctuation of the sealing rim thickness is now in the range of some tenths of a micron. This also applies to the other dimensions too.