At this year´s Interpack in Düsseldorf, one key focus of Illig´s trade show presentation was on the new FSL 48 forming, filling and sealing machine.
Designed with the demands of the foodstuffs and, specifically, dairy product industries in mind, the unit delivers single-serve packaging containers with photo quality decorations made by in-mold labeling (IML) directly in one operating step with the thermoforming process. Following hygienic filling, the containers are then sealed to obtain a finished retail-packaged article.
The hygiene levels range from thermoforming IML-decorated cups with sterile air through a configuration with an all-enclosed filling section to the optional sterilization of lid foil by UV irradiation. Moreover, the machine´s newly developed multi-track filling unit is designed to provide CIP (cleaning in place) and SIP (sterilization in place), making it generally suitable for aseptic filling. This delivers filling and packaging capabilities which reliably conform to diverse standards up to VDMA Hygiene Class IV for hygienic filling equipment. Thanks to the multi-track filling unit, cups can be filled with up to eight product varieties at the same time. This machine can process all customary sheet stock suitable for FFS lines, e.g., PS, PP, multilayer materials (e.g., PS/EVOH/PE), APET, and even stock made of PLA (polylactide) organic polymers. The same applies to the heat-sealable lid material.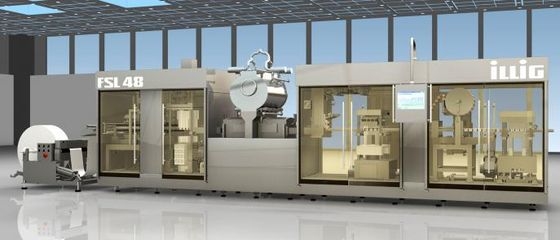 The format surface area of 480 mm x 320 mm (or up to 350 mm in the case of non-decorated articles) makes it possible to accommodate the output of one complete cycle – e.g., 12 standard curd cheese packs – in a carton compatible with the Euro pallet module following sealing and separation of the cups from the web. This format size is adaptable to obtain single or dual cups, or 4- or 6-cup trays. The machine´s controlled, exclusively servomotor-driven movements result in a very smooth operation, so that even highly liquid products can be filled into single-serve packs at rates exceeding 30 cycles/minute without product overspilling onto the sealing rim.
Apart from the machine version with integrated IML unit (FSL 48 model), the basic machine is also available in its FS 48 standard form for thermoforming, filling and sealing single-serve packs or other non-decorated foodstuff containers. Both configurations can be combined with a carton packer matching its output capacity. The packer, which is also servomotor-driven, features an automatic carton erector and can handle any kind of carton, from trays to open-top to wraparound types.
The IML unit uses printed pre-cut labels supplied from a storage magazine. These labels are placed in the mold cavity and become integral with the cup wall in the subsequent thermoforming cycle. Since the IML process does not require vertical container walls, this decorating method provides the additional benefit of supporting a broad diversity of cup shapes for improved visual impact on the supermarket shelf. Indeed, IML opens up a broad range of cup decorating options – from one-sided up to five-sided designs – to combine high visual appeal with superior functionality. Depending on the cup material, the technology supports matching PP, PS or paper labels. The IML unit is integrated directly into the molding station and requires no more floorspace than a conventional banding unit.
Another advantage of the IML technology employed consists in the fact that each mold cavity can accommodate a differently printed label. Such versatility is helpful in filling and packing product families, which is basically made possible by the multi-track filler configuration. Product changes too are quick and easy to implement with this technology.
Inserting the labels into the mold adds an additional operating step to the thermoforming workflow. The label is inserted concurrently with the ongoing molding step outside the closed mold. To this end, the lower part of the mold is in the shape of a fourfold cube which rotates through 90 deg. in every cycle. Each printed label is inserted and fixed in the cavity with the lower mold part awaiting its next 90-deg. turn into the molding position. At the rate of 30 cycles/minute that can thus be achieved, and with the useful sheet stock area sized to yield, e.g., 12 standard curd cheese packs, the machine will thus deliver 21,600 single-serve packs per hour.