The new El-Exis SP model covers a broad spectrum in the packaging industry.
That the new EL-Exis SP offers a sustainable production system for packaging manufacturers was demonstrated with three different applications by Sumitomo (SHI) Demag Plastics Machinery GmbH, the Japanese-German manufacturer of injection moulding machines, at the Market Segment Meeting "Trends and Technologies in Packaging".
In addition to producing 1.2-litre buckets, the El-Exis SP impressed visitors with its high-speed production of beakers and a sophisticated in-mould labelling cell as the main feature.
As a special highlight and a masterpiece of process engineering, Sumitomo (SHI) Demag together with Marbach moulds & automation GmbH of Bad Urach demonstrated how thin-walled containers can be produced with full cover labelling. The special feature of this new in-mould labelling process is that the banner label and the base label are inserted overlapping around a radius, thus completely covering the plastic surface with the label right up to the edge of the seal. In this way the necessary barrier function can be integrated into the packaging by means of the label.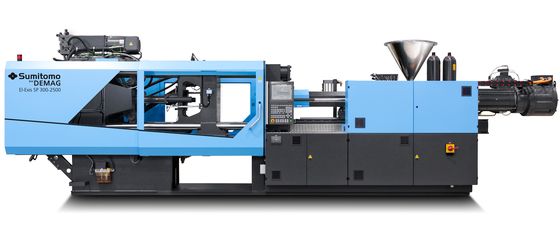 For this full labelling Sumitomo (SHI) Demag's partner Marbach has developed a process where a "Full Cover Label Placer" inserts the banner label and the base label in one stroke. Previous IML solutions required a crosspiece on the base of the container so that it was not possible to cover the full area with the label in injection moulding. Last, but not least, the new geometry gives the products an important distinguishing feature at the point of sale.
The new in-mould labelling development was on display at the Packaging Market Segment Meeting in a manufacturing cell around an EL-Exis SP 200 (2,000 kN). The fast-speed machine, equipped with a double IML tool from Marbach, produced the 250-g-containers in a cycle time of 4 s. The Full Cover Label Placer from Marbach ensured that the banner label and the base label were inserted in one stroke. The high-precision mould stop position of the EL-Exis SP ensured the exact positioning of the labels despite the high production speed.
Marbach moulds & automation GmbH of Bad Urach is considered to be one of the leading manufacturers of injection moulds in the thin-wall sector. Furthermore, the moulds & automation division of the Heilbronn Marbach group offers in-mould labelling systems for both injection moulding and thermoform systems. The automation series of the Marbach specialists is rounded off by removal and stacking systems.