The Institute for Plastics Technology (IKT) of the University of Stuttgart has now augmented its R&D facilities with a new compounding system: a ZSK 18 MEGAlab laboratory extruder from Coperion. The nucleus of the system is a twin screw extruder featuring a screw diameter of 18 mm and designed specially for small production rates. Given a batch quantity of at least 200 g, it is possible to achieve a throughput rate of max. 40 kg/hour, thus ideally meeting the special needs of formulation development and research.
"We have acquired the new laboratory extruder for both current and future research work at the institute," says institute director Prof. Dr. Christian Bonten. "Our work is focused in particular on complex reactive systems, the compounding of high-temperature materials and highly filled polymers."
While the compounding of materials on an industrial scale demands the highest possible output, the requirement here is for high flexibility combined with the most economical consumption of material. Precisely in research applications, this small batch extruder is ideal for the processing of new materials developed in small quantities in the laboratory and/or for the processing of very costly raw materials. To this end IKT has also acquired three additional metering systems from Coperion K-Tron for very low throughput rates, thus enabling the extruder to operate with additive materials reliably at metering rates as low as 20 ml/hour in extreme cases. Moreover, in order to make the extruder's range of uses for IKT as wide as possible, Coperion has equipped the ZSK 18 MEGAlab with a longer extruder barrel and also rated it for high-temperature applications.
The ZSK 18 MEGAlab is a compactly built mobile unit. Supply systems, such as the water supply system and the vacuum generating unit, are integrated into the enclosed base frame together with the motor and extruder control systems. Quick release connections permit rapid cleaning of the process section, which means that changeover from one product to another can be accomplished in very little time. A particular advantage of the laboratory extruder lies in the reliable scale-up to larger ZSK models, such that results obtained at the IKT on a laboratory scale can be transferred to compounding extruders operating on a production scale. With its acquisition of the new ZSK 18 MEGAlab the IKT now has as many as four Coperion ZSK twin screw extruders at its disposal.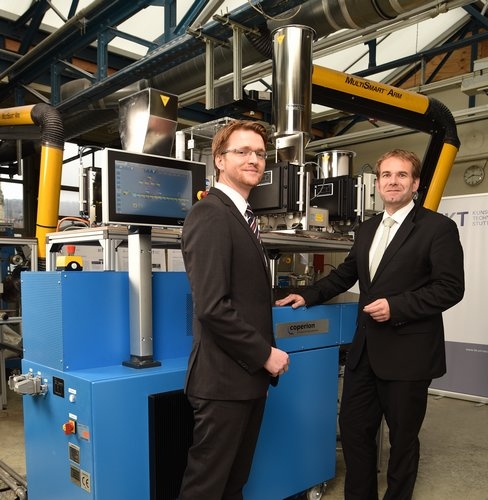 Coperion is the international market and technology leader in compounding systems, feeding technology, bulk materials handling systems and services. Coperion designs, develops, manufactures and maintains systems, machines and components for the plastics, chemicals, pharmaceutical, food and minerals industries. Within its four divisions – Compounding & Extrusion, Equipment & Systems, Materials Handling and Service – Coperion has 2,500 employees and nearly 40 sales and service companies worldwide.
The present Institut für Kunststofftechnik (IKT) evolved from a merger between the Institut für Kunststofftechnologie and the Institut für Kunststoffprüfung und Kunststoffkunde (IKP) and is now over 50 years old. The new IKT operates in the fields of education, research and industry-relevant plastics technology in all its stages: from materials and processing technology through to product development.