The Board of Executive Directors and the Supervisory Board have proposed to the Annual Meeting that a dividend of €2.20 per share be paid for the 2010 business year. Hambrecht stated: "We stand by our ambitious dividend policy and plan to pay out around €2 billion to our shareholders. We continue to aim to increase our dividend each year, or at least maintain it at the previous year's level." Based on the year-end share price for 2010, BASF shares offer a high dividend yield of 3.7%.
In the forecast, BASF assumes that it will not be able to resume its crude oil production in Libya in 2011. The company expects a higher annual average oil price. Therefore, the previous forecast of $90 per barrel has been raised to $100 per barrel.
Despite the reduction in oil production, the BASF Group expects significant sales growth in 2011. As a result of the suspension of oil production in Libya, the company now anticipates that the non-compensable oil production taxes will decline by around €700 million (assumption 2011: €280 million; 2010: €983 million).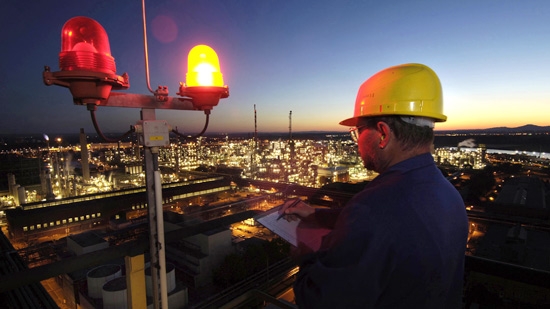 Hambrecht said: "Adjusted for the non-compensable oil production taxes, we continue to aim to significantly exceed the record 2010 level in income from operations before special items. We expect to earn a high premium on our cost of capital once again in 2011."
In the Chemicals segment, sales in all divisions increased substantially as a result of significantly higher sales prices in almost all business areas as well as greater volumes and positive currency effects. Earnings sharply exceeded the level of the previous first quarter due in large part to good margins, in particular in the acrylic acid value-adding chain, as well as high capacity utilization rates.
The Plastics segment experienced strong demand in all business areas; sales improved substantially compared with the first quarter of 2010 in particular as a result of higher sales volumes. Owing to the ongoing shortages of several products, higher raw materials costs could largely be passed on to the markets, especially in the Performance Polymers division. Thanks to high sales volumes, earnings increased sharply.
Sales in t he Performance Products segment were also far above the level of the same quarter of 2010. The acquired Cognis businesses contributed significantly to the improvement in sales. Sales growth was additionally boosted by increased volumes as well as higher prices resulting from the rise in raw materials costs. Earnings improved as a result of the inclusion of the Cognis businesses, synergy effects from the Ciba integration and the successful repositioning of the combined businesses.