At the Plastpol 2015, to be held from 26 to 29 May in Kielce, Poland, Arburg will present a wide spectrum of plastic parts production – from the manufacture of one-off parts through to the mass production of medical technology items. On exhibition stand E-20 in Hall E, a Freeformer will demonstrate how one-off parts and small, multiple-variant batches can be produced without a mould using the Arburg Plastic Freeforming (AKF) industrial additive manufacturing process. The high-volume production of syringe barrels will be demonstrated on a hybrid Allrounder 520 H. A production cell built around a hydraulic Allrounder 420 C Golden Edition will demonstrate cost-efficient entry-level automated injection moulding production based on the example of a toy buggy.
"The Polish economic trend is extremely stable and, accordingly, our assessment of our customers' willingness to invest is optimistic," says Dr. Slawomir Sniady, Managing Director of the Arburg subsidiary in Poland. "There's a particular interest in increasing production efficiency as well as in the competitive production of plastic parts at minimum unit costs. This is precisely what we offer with our wide product range of modular Allrounder injection moulding machines and our reliable service. As a highlight this year, we will also be presenting the Freeformer, which operates without a mould and uses standard granulates to produce functional components as one-off parts or in small batches. The European sales launch began in April. Our customers' interest in this innovative system for industrial additive manufacturing is huge. In front of this backdrop, we are expecting a good trade fair, specific enquiries and positive impetus."
Freeformer additively processes two components
With the Freeformer, fully functional plastic parts can be additively manufactured from standard granulate using the patented "Arburg Plastic Freeforming" process based on 3D CAD data, without the need for a mould. As with injection moulding, the granulate is initially melted in a plasticising cylinder. Plastic droplets are applied layer-by-layer onto a moving part carrier via the nozzle of a stationary discharge unit, using high-frequency piezo technology at a specified duty cycle of 60 to 200 Hertz.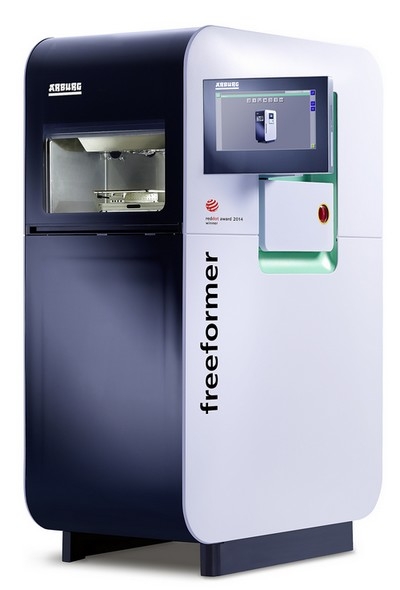 The second discharge unit can be used for an additional component, for example to produce a part in different colours, with special tactile qualities, or as a hard/soft combination. At the Plastpol 2015, a Freeformer will combine a standard ABS material with a special support material to produce a key fob featuring a ball joint. The supporting structures are simply removed later in a water bath.