Upakovka (& Inprodmash) 2012

13-th International Trade Fair of equipment and materials for Packing UPAKOVKA
Date:
-
Location:
Kiev,

Ukraine

,


International Exhibition Centre
Organizer

ACCO International Ltd

Phone:

+38 044 456 3804

Fax:

+38 044 456 3804  

www:

e-mail:

international@acco.kiev.ua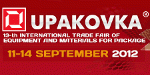 INPRODMASH & UPAKOVKA
- Ukraine's largest exhibitions of food and processing industry that have deservedly acquired the status of main exhibition events of the industry and effective business platforms for international cooperation.
Equipment, accessories, materials and technologies for all sectors of food processing industry, as well as food packaging are represented at the Trade Fairs.
Both events complement each other thematically. Trade Fair cover the full cycle of technological processes - from cutting and primary processing of raw materials to the transportation, storage and production of packaged product. That certainly increases the efficiency of trade fairs.
UPKOVKA- tematic sections:
Packing materials and technologies for its producing,
Equipment for food packaging
Weighing, metering and filling equipment
Equipment and technologies for beverage bottling and packaging
Equipment for container-glass industry
Equipment for plastic package production
Final package lines
Equipment and technologies for manufacture of labeling produce
Equipment for package printing
Equipment and technologies for disposal of packaging and waste in production and turnover of food products.
If you are going to do business in Ukraine - INPRODMASH & UPAKOVKA – are your reliable partners!