2nd Annual Kingdom Plastic Summit 2018
Organizer

TraiCon Events Pvt Ltd #609, 2nd floor, 17th 'B' Cross Indiranagar II Stage Bangalore – 560 038 India

www: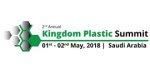 The Kingdom Plastic Summit 2018 possesses a huge potential with the development of industrial clusters, research centres, strategic location of the country and its natural resources.
The "2nd Annual Kingdom Plastic Summit 2018" explores the global trends in the industry and the, challenge of sustainability and how they can establish a competitive advantage and its application within the value chain. The leaders & experts from the Kingdom's largest industries will set the stage for deliberation on the ideas and opportunities for sustainable growth.
The conference will identify the challenges that that industry will face. To utilize these opportunities for growth and investment. The impact of these changes on supply chain for the regions plastic industries. It addition, it will provide an in-depth insight into the future sustainable plans and targets for the industry and the steps that need to be taken to achieve these goals to move out of the dependency of the Oil sector.
This 2 day event will bring in together industry professionals from around the Kingdom and professionals across the globe to meet and discuss the opportunity stored for each. The leading events keep pace with the growth of the plastic industries in the Kingdom and present a unique opportunity for attendees to advance the growth and development of these sectors and increase their contribution to the national economy.
At the KPS 2018, 300+ industry decision makers gather together to network, inspire one another, and gain a comprehensive view with which to navigate the complex, ever-changing global plastics industry.
About The Organizer
TraiCon is a leading provider of Global Trainings, Conferences, Exhibitions, B2B events and management consulting for diversified industries that are looking to scale opportunities and be more effective in delivering their businesses to the right people at the right time. We help create a unique business environment by delivering business contacts that create value, knowledge and maximize your ROI. Creating quality opportunities to develop business is fundamental to us. We use technology, insights and experience to create a robust environment by addressing global challenges across industries.
We also make leadership development accessible to those who aspire to have a better future by bridging traditional management with global values. In collaboration with various organizations, we forge new links to build an eco-system of technological and environmental leadership. TraiCon formulates and successfully delivers a platform that is focused on bringing together buyers and sellers to communicate educate and transact with the best minds in the industry.