TPO 2013

TPO Automotive Engineered Polyolefins 2013
Date:
-
Location:
Troy,

United States of America

,


Troy-Marriott, Troy, Michigan
Organizer

SPE Automotive Division, 1800 Crooks Road, Suite A, Troy, MI 48084 USA

Phone:

+1.248.244.8993

www:

e-mail:

dawn@auto-tpo.com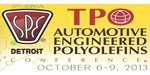 Now in its 15th year, the show is the world's leading automotive engineered polyolefins forum featuring 60+ technical presentations, keynote speakers, networking receptions, & exhibits that highlight advances in polyolefin materials, processes, and applications technologies as well as a growing range of thermoplastic elastomers (TPEs) and thermoplastic vulcanizates (TPVs). This year's show will be held Oct. 6-9, 2013 at the Troy-Marriott (Troy, Michigan) in the suburbs of Detroit.

The SPE TPO Automotive Engineered Polyolefins Conference
typically draws over 500 attendees from 20 countries on 4 continents who are vitally interested in learning about the latest in rigid and elastomeric TPO as well as TPE and TPV technologies.