Organizer

P. Petropoulos & SIA Ε.E. 3EK Organization of Exhibitions, Kerassias 18 - 20, 152 38 Halandri Hellas (Greece)

Phone:

(+ 30) 210 8056205

Fax:

(+ 30) 210 8056209

e-mail:

info3ek@otenet.gr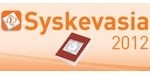 Biennial Exhibition with a constantly growing course aiming at the briefing of Industries, Production and Commerce for Packaging and Printing goods, Materials and Machines, Paper Processing, the Presentation of turn key projects for processing and standardization of food, drinks, beverages, juices, wine, olive oil, dairy products, honey, etc, as well as Weighing, Moving, Transportation and Storage systems.

The Special presentation "Tomorrow's Super Market" presents the Unbreakable Link of Packaging with Equipments, Materials and Services relevant to Super Market.