Sustainable Packaging Symposium 2012
Date:
-
Location:
Houston,

United States of America

,


Hilton
Organizer

Greener Package

www:

e-mail:

michn@aiche.org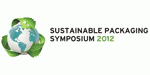 This year's Sustainable Packaging Symposium (SPS) celebrates the optimized package. Our program theme – "Advancing Sustainable Supply Chains with Optimized Packaging" – addresses a critical goal of Consumer Packaged Goods manufacturers worldwide, and offers actionable best practices, tools and strategies for achieving more sustainable supply chains. Attendees will find presentations on:
* The value proposition for the optimized package
* Data and analysis measurement tools, including total cost assessment
(TCA)
* Reducing retailer food waste
* The key attributes that define a sustainable package
* The technical underpinnings essential to sustainable package designs and much more. SPS 2012 will have essential information for:
* Brand owners, corporate sustainability, marketing executives, packaging
and operations managers, engineers, R & D and package
development professionals
* Retail professionals, corporate sustainability, sustainability
leadership
* Converters and suppliers of packaging materials, machinery, and
services
* Raw materials manufacturers
* Scientists and engineers.