ProdTech 2012

International Exhibition for Food Processing and Packaging Technology
Date:
Location:
St. Petersburg,

Russia

,


Lenexpo Exhibition Complex 103, Bolshoy prospect, V.O. 199106 Saint Petersburg, Russian Federation
Organizer

PrimExpo Yakubovicha str 24A 190000 Saint Petersburg, Russian Federation

Phone:

+7 (8)12 3212875

Fax:

+7 (8)12 3212876

www:

e-mail:

food@primexpo.ru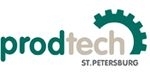 The Prodtech in St. Petersburg, covers all aspects of processing, packaging, hygiene, storage and distribution from the food industry. The event reflects the dynamic development in the market and is growing from year to year. Manufacturers, suppliers and developers can check at the show on the latest developments in the industry and look at the latest machines and accessories.