Date:
-
Location:
Philadelphia,

United States of America

,


Hotel Sofitel Philadelphia, 120 South 17th Street, Philadelphia, PA 19103
Organizer

Applied Market Information LLC, 1210 Broadcasting Road, Suite 103, Wyomissing, PA 19610, USA

Phone:

+1 610 478 0800

Fax:

+1 610 478 0900

www:

e-mail:

kc@amiplastics-na.com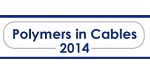 AMI's Polymers in Cables 2014 will take place on June 17-18 at the Hotel Sofitel Philadelphia in Philadelphia, Pennsylvania.

Annually, Polymers in Cables attracts attendees from across the global supply chain, bringing together cable producers, users, raw materials suppliers and equipment manufacturers. The event will provide a lively interaction between the international panel of speakers and delegates. The presentations are organized to provide a comprehensive overview of the latest material, technology and business trends.

We are currently accepting paper offers for this event. If you would like to be considered to speak on this popular conference program, please send a title and short abstract to the below information.

For further information on this conference please contact: Ms. Kelly Cressman, Conference Coordinator, kc@amiplastics-na.com Tel: +1 610 478 0800, Fax: +1 610 478 0900.