Polybuild 2009

Polybuild 2009 - International building and architectural plastic exhibition
Organizer

M-EXPO The 2d Kozhevnichesky Per., 12, Moscow, Russia. Tel: +(7)-(495)-9564822 Fax: +(7)-(495)-2557069

Phone:

+7-495-9564822

Fax:

+7-495-2557069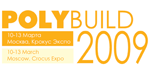 ?he PLASTBUILD 2008 international building and architectural plastic exhibition will be held in the newly built third pavilion of Moscow?s Crocus Expo International Exhibition Centre on 11-14 March, 2008.

PLASTBUILD will be a part of a large-scale exhibition project RUSBUILD ? Professional Construction Exhibitions in Russia. PLASTBUILD is an industry showcase for plastic applications in construction ? from the foundation to the roof.

The exhibition will be organised by the Rosstroi (Russian Federal Construction and Housing Agency), Rostekhnadzor (Federal Environment, Technology and Nuclear Supervision Service), Government of Moscow Region, Russian Chamber of Commerce and Industry and Russian Builders? Union. The event will be supported by other industry associations too.

PLASTBUILD will showcase the latest developments in polymer manufacturing technology, encouraging exchange of ideas among builders, chemists, plastic processing industry workers and other construction industry specialists.

The exhibition will focus on materials, plastic primary and secondary processing machines, sealing equipment, hydraulic and pneumatic components, plastic manufacturing equipment and mechanisms, templates and tools, and industrial application of building plastic.

According to the forecasts, PLASTBUILD, with its total floor space of more than 1,500 square metres, will feature more than 100 exhibitors. The prospective number of visitors amounts to 9,000.

The exhibition will be accompanied by an eventful business programme with the participation of industry associations and research centres.

PLASTBUILD is dedicated to promoting successful application of advanced technology for further technical development of the construction industry.