Poly India 2011

Advanced Application of Polymers and Plastics
Organizer

FICCI New Delhi Federation of Indian Chambers of Commerce and Industry, Federation House, 1 Tansen Marg, New Delhi – 110001

Phone:

91-11- 23738760 - 70 (Extn. 465)

Fax:

91-11-23359734

e-mail:

manojmehta@ficci.com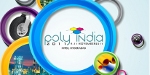 The First International Exhibition & Conference on Polymers, Plastics, Technologies, Process Plant Machinery, Control & Automation Systems in field of Automobile, Aviation, Telecommunication and other emerging areas. The event expected more than 150 exhibitors and 8000 business visitors.
Event objective:
To showcase the potential of the Indian Polymer & allied Industry
To highlight business opportunities in the sector
To discuss & deliberate on the research and development, infrastructure andenvironmental concerns.
To bring out winning strategies for building and strengthening the awareness ofemerging new advanced applications of Polymer and Allied Industry.
Improving competitiveness through continual evolution and research in developing new applications of Polymerand Allied Industry.
To bring together the polymer and Allied Industry experts, scientists, technocrats, regulatory & Government officials.
To bridge as to bridge the gap between Indian & Global companies by exploring the possibilities of mergers, joint ventures, setting up of R&D base and strategic alliances.