Plastex 2008

The 11th African - Arabian Exhibition for the Plastic Industries
Date:
Location:
Cairo Fair Ground Nasr City PLASTEX 2008 will take place at the leading purpose - built exhibition venue in Cairo International Fair Ground. The venue location is only a ten-minute-drive away from both the Cairo International Airport and Down Town.
Organizer

ARAB COMMUNICATION GROUP ( ACG )

Phone:

+202 275 38 401

Fax:

+202 275 38 323

www:

e-mail:

info@acg-itf.com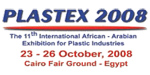 PLASTEX 2008 is the largest trade fair serving the plastics industries in the the markets of the Middle East and North Africa (MENA).

Since its debut in 1993 and throughout ten successful versions, PLASTEX has played a significant role in developing the regional plastics industries by bringing in the latest global technologies to the growing MENA markets. PLASTEX is considered to be the natural venue of machinery manufacturers interested in international expansion for their products throughout the MENA region. As nothing can sell in this strategic part of the world like direct contacts, PLASTEX 2008 offers its exhibitors the chance to meet with regional traders and manufacturers who consider PLASTEX as a "must-attend event".