Nanocomposites and Nanotubes 2012

The 12th Nano Enhancers for Plastics 2012 Conference
Organizer

Crain Communications

Phone:

+44 (0)20 8253 9621

e-mail:

epnconferences@crain.com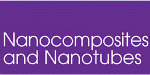 Nano-scale technologies promise radical changes for business and society.
For plastics material science and manufacturing this means the potential to make lighter, cheaper and better performing components – the challenge is to turn this vision into reality.

The conference will be attended by both academic experts and business professionals, who met to share knowledge on current and future developments in this field.