Modernpak 2011

International Packaging Materials and Packaging Technology Fair
Organizer

Zagreb Fair Avenija Dubrovnik, Zagreb, Croatia

Phone:

+(385)-(1)-6503111

Fax:

+(385)-(1)-6550619

www:

e-mail:

rkraljevic@zv.hr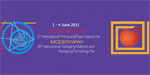 It will be 26 edition of Modernpak, the biggest exhibition event for the packaging industry in Croatia. This year Modernpak will present the latest technologies, products, services and innovations in the packing industry as well as modern solutions for ecologically acceptable packing.
Besides the exhibition part, the organizer will also organize professional gatherings, traditionally bringing together experts to exchange their knowledge and experience acquired in the field of production and application of packing and distribution of goods.

In parallel with Modernpak it is also organized Intergrafika, the International Printing and
Paper Industry Fair.