Organizer

Tarsus Group Plc 4th Floor, Metro Building, 1 Butterwick, Hammersmith, London, United Kingdom.

Phone:

+ 44 (0) 208 846 2700

Fax:

+44 (0)20 8846 2801

www:

e-mail:

sales@labelexpo.com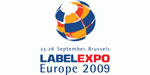 The next edition of Labelexpo Europe (the label industry's largest show) will take place on 23-26 September 2009 in Brussels.

The previous edition of Labelexpo Europe, which took place 26-29 September 2007 in Brussels, surpassed all its records this year, in terms of visitors, exhibitors and equipment sales. This makes Labelexpo Europe 2007 the largest and most successful label event ever to have taken place.

In total, 24,752 visitors from 114 countries attended this year?s show ? an increase of 7% over the 2005 event. This included large delegations from Australia, Brazil, China, India, Japan, Russia, South Africa, Turkey and the Middle East.