Fire Retardants in Plastics 2014
Date:
-
Location:
Denver,

United States of America

,


Grand Hyatt Denver, 1750 Welton Street, Denver, CO 80202, USA
Organizer

Applied Market Information LLC, 1210 Broadcasting Road, Suite 103, Wyomissing, PA 19610, USA

Phone:

+1 610 478 0800

Fax:

+1 610 478 0900

www:

e-mail:

kc@amiplastics-na.com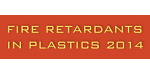 Fire Retardants in Plastics 2014 will be held on Tuesday, May 13 and Wednesday, May 14 at the Grand Hyatt Denver in Denver, Colorado, United States.

AMI's Fire Retardants in Plastics conference has rapidly become an essential meeting place for the industry, attracting an international audience made up of leading players from throughout the supply chain. This will be the fourth annual edition of the event.

The 2013 program featured industry experts that covered the latest legislative issues, additive technologies, flame retardant compound formulations and applications. Dedicated sessions addressed key topics such as market trends, additives for engineering plastics, the way ahead for halogenated products, minerals for flame retardant formulations, developments in polyurethanes, and ongoing regulatory issues. In response to audience requests, the program also boasted an expanded session on flame retardant technologies for polyolefins.

In addition to these high-level presentations, the conference also provided the ideal networking forum to share ideas and discuss new solutions for flame retardant plastics that meet and exceed the performance, environmental and health requirements of the future.