Experience Composites 2016
Organizer

JEC Group 25 Boulevard de l'Amiral Bruix 75116 Paris France

Phone:

+33 1 58 36 43 98

www:

e-mail:

truong@jeccomposites.com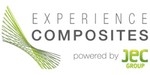 The new leading international trade fair 'Experience Composites - powered by JEC Group' demonstrates areas of application, trends, applications, future potentials and ideas that can be achieved using fibre composites. This trade fair is innova­tive, inspirational, application-oriented and opens up new business potentials in the growth industry of fibre composites. The coming together of companies who use these products, research institutions, scientific institutes, associations and networks is one of a kind at this trade fair site. Excursions to companies, users and scien­tific institutes promote the transfer of expertise relating to composite materials. This also helps to inspire product developments. Take advantage of 'Experience Composites - powered by the JEC Group' and boost your success with fibre composite technology.

'Experience Composites' is aimed at composites decision-makers from around the world in mechanical and plant engineering, the automotive sector, wind power, construction, infrastructure, aerospace and medical engineering. The trade fair is a platform for sharing expertise between manufacturers, OEMs, retailers, suppliers, scientific institutions, and the media.

A new, event concept was developed for 'Experience Composites'. The so-called 'multi-location format' includes a conference, visits to companies using these materials, scientific institutes, instruction and training sessions as well as community events at cultural highlights in the second-oldest city in Germany. We want to showcase fibre composites in a way that is transparent and tangible - to increase the image and economic success of the composites world.