Erema Discovery Days 2018

The EREMA Event for Plastics Recycling & the Circular Economy.
Date:
Location:
EREMA Engineering Recycling Maschinen und Anlagen Ges.m.b.H.

,

Unterfeldstr. 3

,

A-4052

Ansfelden

,

Austria
Organizer

EREMA Engineering Recycling Maschinen und Anlagen Ges.m.b.H. Unterfeldstr. 3, A-4052 Ansfelden Austria

Phone:

+43 732 3190-0

www:

e-mail:

erema@erema.at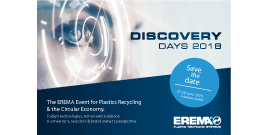 The circular economy is the order of the day. And one of the big issues for the plastics and recycling industry of the future. In order for the circular economy to be successful on a widespread basis and to unleash its full potential we as plastics industry have to question a number of things and take a new approach. The future calls for innovative ideas and concepts – ones that span processes, companies and industries. But we don't have to reinvent everything. Because we already have effective solutions, effective technologies and creative (recycled) products in many areas.
We aim to take a look at both levels at the EREMA DISCOVERY DAYS 2018 and journey into the future together with you and notable experts to identify and discuss possible requirements for you and the industry. Plus we will put the spotlight on current best practice examples, lighthouse projects and technologies which are already taking effect and ensure a strong performance for you – the focus is on solutions for post-consumer recyclers and production waste recyclers.
We are convinced that the circular economy is a trigger for cooperation and collaboration. And this is why it is a pleasure for us to hold this event together with notable partners and key players in the plastics value chain. We invite you to acquire leading knowledge and come to the EREMA DISCOVERY DAYS 2018.
EREMA DISCOVERY DAYS 2018: Selected topics and highlights
More throughput, more quality – how to get more out of your process: performance factors in post-consumer recycling
Save costs & resources and keep a check on quality – performance factors for efficient recycling of production waste
The circular economy – a trigger for cooperation, an accelerator for enhancing the image of the plastics industry
The circular economy from the perspective of brand owners and virgin producers
From interface to interplay: how high-precision interaction of the individual recycling process steps improves your result
Fit for recycling: innovations in injection moulding and toolmaking technology which make using recycled pellets even easier
Added value through digitalisation: how the recycling value chain benefits from digital solutions and new services
Innovative lighthouse projects and exciting end products made from recyclate
Tour of the Borealis Innovation Centre in Linz
Recycling live in operation – machine demonstrations
Parallel exhibition with key players from the entire value chain
Evening event on 27 June 2018
For current updates, please click on the event website: www.erema.com/en/discovery-days-2018/
Join us on the journey! We look forward to your visit!