Contract Pack 2012

The place to find a professional outsourcing partner in the packaging industry
Date:
-
Location:
Birmingham,

United Kingdom

,


NEC
Organizer

easyFairs UK Ltd 8 Oak Lane Twickenham TW1 3PA

Phone:

+44 (0)20 8843 8802

Fax:

+44 (0)20 8892 1929

e-mail:

nick.battams@easyfairs.com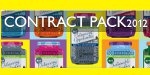 Taking place on 29th February – 1st March, CONTRACT PACK 2012 provides the perfect location to learn about the packaging industry in greater detail, looking at the new innovations available, and then sourcing the companies who can take on your requirements and business plans. Plan your visit to reach targets, increase margins and meet environmental guidelines. The show lasts just two days. Co-located with four other shows: PACKAGING INNOVATIONS, ECOPACK, PACKTECH and PRINT INNOVATIONS. CONTRACT PACK 2012 is part of the easyFairs Packaging & Print Portfolio. Together the five shows cover all aspects of packaging, from the initial concept to placing the product in front of the customer.