CEE Rubber & Tire Markets

3rd Russia/CEE Rubber & Tire Markets
Organizer

Centre for Management Technology

Phone:

+65 63469146

Fax:

+65 63455928

www:

e-mail:

leelin@cmtsp.com.sg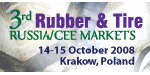 Key Reasons to attend CMT's 3rd Russia/CEE Rubber & Tire Markets:
Gain valuable input from key tire producers on the outlook of OTR market in the CIS & development trends of tractor tires.
Latest tire market trends in Ukraine.
Analyse demand-supply dynamics of raw materials: natural rubber, synthetic rubber, carbon black, steel tire cord, etc.
Assess the cost-effectiveness potential of Tire Recycling.
How REACH legislation will impact the rubber & tire industry.
Impact of Chinese tire exports on the Russia/CEE region.
Explore optimal sourcing strategies and options to protect your bottom line.
Identify the growth potential of retreading business and future developments
Renew your contacts and network with key industry decision makers
Enjoy over 6 hours of business networking opportunities
You will network with:
MDs & CEOs
VP
GM
Sourcing Directors/Managers
Product Directors
Sales & Marketing Directors/Managers
Business Development Directors/Managers
Material Suppliers
R&D Directors/Engineers
Technology Design Engineers
Consultants/Analysts from natural & synthetic rubber producers, tire manufacturers, rubber chemical processing producers, carbon black producers & all companies involved in tire and rubber industry.