Bioplastics Compounding and Processing 2012

International industry conference on the profitable use of bioplastics
Date:
-
Location:
Miami,

United States of America

,


The Hilton Miami Downtown
Phone:

+1 610 478 0800

Fax:

+1 610 478 0900

e-mail:

jc@amiplastics-na.com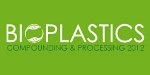 This conference focuses on the value proposition of the bioplastics market, the practical processing and use of bio-sourced plastics including compounding, additives selection, injection molding, film and sheet extrusion, blow molding, biodegradation on land and at sea, labelling and certification. It covers applications from short-term packaging to long-term automotive and electronics.

Bioplastics Compounding and Processing 2012 offers a lively interaction between an international panel of speakers and delegates, which will stimulate debate in all sectors.