6th Global Rubber & Tire Markets
Organizer

Centre for Management Technology 80 Marine Parade Road #13-02 Parkway Parade Singapore 449269

Phone:

65 6346 9114

Fax:

(65) 6345 5928

www:

e-mail:

carmen@cmtsp.com.sg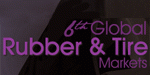 The conference unites senior executives from the world rubber and tire industry to address impact arising from increasing rubber prices against rapid growing demand. This established series will not only offer first-hand insights via high-level discussions, but also hours of valuable networking with leading experts – all on one platform.

It is worth to know that rubber tire manufacturers are experiencing margin squeeze as raw material prices increase.

Natural Rubber's record-high prices have yet to deter automotive tire factories, determined to meet consumer's hunger for new vehicles. Faced with a scenario of even tighter capacities in the coming year, how will escalating prices further impact on the rubber and tire industry?