UV protection for polycarbonate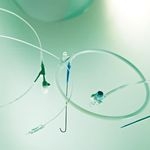 AURA infusion technology, developed by Bayer MaterialScience LLC, offers a cost-effective and environmentally responsible way to improve the UV protection of injection molded or extruded polycarbonate parts. The company has licensed the technology exclusively to Radco Infusion Technologies LLC, for worldwide use.
Because ultraviolet (UV) light attacks polycarbonate at the surface, UV protection is most effective when concentrated there. Yet, with traditional compounding of additives it is not possible to concentrate protection at the surface. This limits UV absorber effectiveness in outdoor applications, such as lenses and covers for lighting fixtures, where protection from sunlight is essential to durability and clarity.
"The new dimension of AURA infusion technology, made possible by Radco, can be used with any of Bayer's Makrolon transparent polycarbonate lighting grades," said Kevin Dunay, market segment leader, Electrical/Electronics (EE) Polycarbonates, Bayer MaterialScience LLC. He continued, "It's a breakthrough for lighting manufacturers, since it helps overcome the issue of yellowing after extended UV exposure." The company will present the technology at its booth, # 502, at "Strategies in Light 2012" trade fair in Santa Clara, California.
The infusion of UV additives via AURA infusion technology utilizes the same process used to add custom colorants. In this new twist, finished plastic parts are immersed in a mostly aqueous solution containing UV additives. The parts are removed from the solution after a short period of time, rinsed with water to remove excess solution from the surface and then dried to produce a market-ready product.
"Choosing the AURA infusion process allows for the use of heat-sensitive additives that break down at extrusion/molding temperatures, but remain viable at the lower temperatures associated with infusion technology," explained Rick M. Anderson, CEO, Radco Infusion Technologies LLC.
In addition to being efficient and cost-effective, it is also an eco-friendly process. AURA Infusion Technology works in a water-based medium with a minimum of organic additives. The liquid, constantly recycled and reused, does not add to the waste stream. Processing solvents are reclaimed and reused within the system, and the process produces no hazardous waste.
The first commercial application of improved UV protection through AURA infusion technology will be launched in 2012, when a major lighting OEM takes advantage of the UV-protection properties for an outdoor-use product with an LED lens injection molded of Makrolon LED2643 clear tint plastic. Compared with standard transparent lighting grades, the polycarbonate has improved light transmission properties. Makrolon LED2643 plastic has a UL 94 flame class rating of V-2 at 1.5 mm and is f1 rated (suitable for outdoor use with respect to UV light, water exposure and immersion in accordance with UL 746C).
"Through working with Bayer MaterialScience and AURA technology, we have opened up a way to the fundamental redesign of LED light engines and fixtures for outdoor applications. The heat-resistive properties of polycarbonate combined with long-term UV protection through AURA makes possible simple, elegant and cost-effective LED solutions," Anderson said. "I see this solid relationship leading to further expansion and development of this infusion technology."
---